The profile you have can be edited via the menu. A good profile can be an important tool for a landlord in their decision-making process and what allows you to ultimately get the home you've been looking for.
To edit your profile, press the menu button, and then your name/email address. Or via 'Settings' and 'Profile' on the left.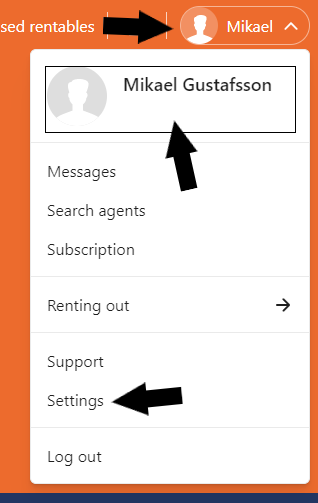 On your profile, you can change anything you want to share with the landlord at any time. You can see a preview of your profile that the landlord sees via 'See how your profile looks to landlords'.
The only thing you can't change is your name because your profile is personal, which means you can't give out your login to others. Therefore, you also do not have the option to change the name of the account profile yourself. If you have changed your name for one reason or another, you are welcome to contact us and we can help you with that.
You can contact us by email via mail info@bostadsportal.se or via messenger. Our support is available on weekdays from 9 a.m. to 3 p.m.