You can contact a landlord through the option provided in the ad, there is a button that says "Contact", "Go to landlord" or by phone number if available. And the button can be found in the same box with a summary about the home, under the pictures and to the right.'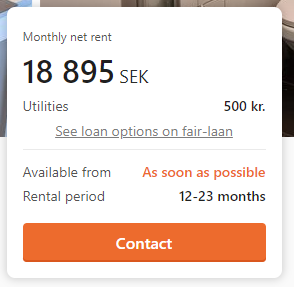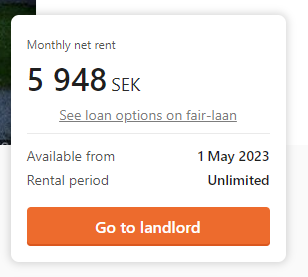 Ads created directly on the website by the landlord.
On the advertisements created directly on the portal, you have direct contact with the landlord, and thus there is no queue or point system that applies, but it is the landlord himself who is responsible for choosing the tenant who gets the apartment. That's why it's also important to write a good application in your first message (As they say, the first impression is the most important). These ads are often marked with "Contact" and/or a phone number below the button.

Ads imported from another original source.
These ads are taken from websites and landlords around Sweden. And when you show interest in one of these homes, you will be directed to the source where the ad comes from. As it is the landlord's own website and system, it may be that a queue or points system applies. These ads are often marked with "To the landlord" as the contact option.